*** * * * * * * * * * * * * ***
Divided Party (DiP) Brand
A brand, uniting ideas and labour, Left and Right, for Self-Determination of all, against the Labour Theory of Value..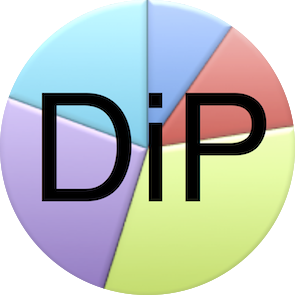 Page Contents
Demand for DiP &nbsp &nbspFunding of DiP
Notices and Community &nbsp &nbspSocial Media
*** * * * * * * * * * * * * ***
Demand for DiP
Indoctrination about "divide and rule", "divide and conquer", which were done by conquering imperialism, promoting "Unity" to conquer, caused demand for DiP. Few realize that imperialism and its fallacious "Unity" divide and conquer, whilst it indoctrinates against "divide and rule" and "divide and conquer". Divided Party (DiP) was the first name of a new political party, opposing imperialism (centralized governance). Central governance has been the problem in South Africa, for more than 100 years, because it cannot represent and respect all the cultures. The intention to unite Left and Right in one party, for self-determination of all, wanting it, primarily in multicultural urban and unicultural rural regions was misunderstood. Therefor the name changed to Federal Party SA - FPSA
Funding of DiP
Investors can contact the current representative for Africahead at the contact details, if they want to invest in Africahead equity. Download the proposal for a private placing of equity in pdf form.
Tax deductible DiP brand tokens can be purchased.
Metamask wallet, e.g. connects to the following donations frame for donations to DiP. Donations by South African citizens are deductible for taxation because it funds Federal Party SA (FPSA), a political party in South Africa:



Metamask Wallet
Refer to the Fundraising Page for more options, e.g. fiat deposits into FPSA's bank account. FPSA needs fundraisers. Refer to the Jobs Page.
Projects
N/A currently
Social Media
DiP can be discussed at, Twitter or WhatsApp, Disqus and Telegram.